Introduction
ITS recommends the use of Mozilla Thunderbird as an email client. Thunderbird is a free software mail client that can be downloaded from
Mozilla
. Versions for Microsoft Windows, Apple Mac OS X, and Linux are available.
This guide will walk though the installation and setup of Thunderbird as your mail client.
Installing Thunderbird
The latest version of Mozilla Thunderbird can be downloaded at
http://www.mozilla.org/thunderbird/
.
Once downloaded, run and follow the on-screen instructions to install the application.
Setup
Upon opening Thunderbird for the first time you will be presented with an Account Setup Wizard.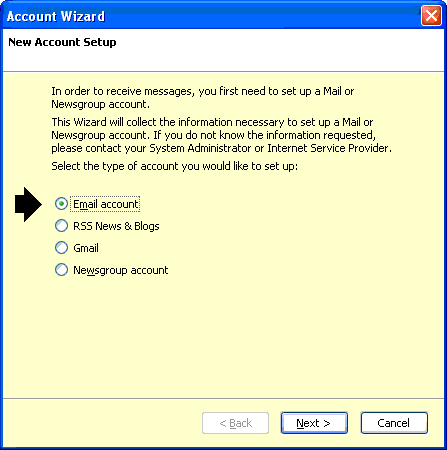 Here, select
Email account
and click Next.
On the next screen you will be asked to provide your name and email address. This name will be presented when people receive email from you, so you should your proper name.
For your email address, you should enter your
UMS username
, followed by
@maine.edu
. For example: john.smith@maine.edu.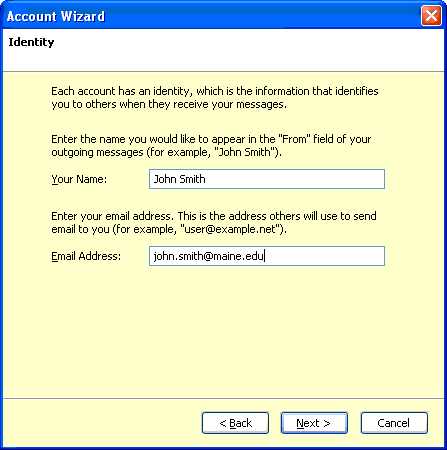 After clicking Next again, you will be asked to select the type of mail account you wish to configure. For more information on the difference between IMAP and POP account see
Mail Client Protocols
.
ITS recommends the use of IMAP. The sever address for both Incoming and Outgoing mail should be
mail.maine.edu
.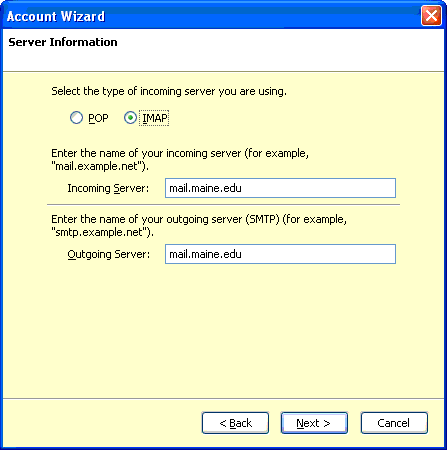 The next screen will ask you for your username. This will be your
UMS username
.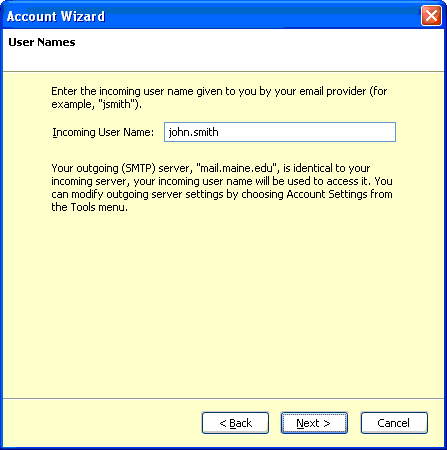 After filling out your username, you will be asked to provide a description for this mail account. You can enter whatever value you like here as it will be for your convenience only.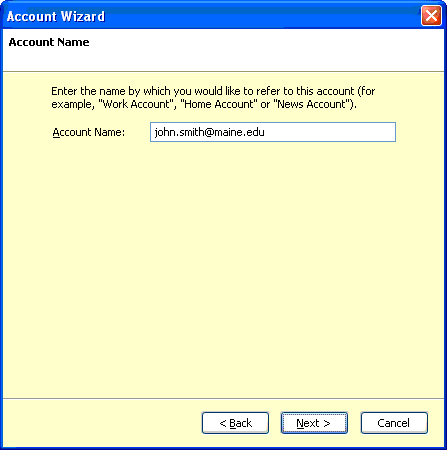 The last screen will allow you to review your settings. Check to make sure everything is accurate, then click Finish.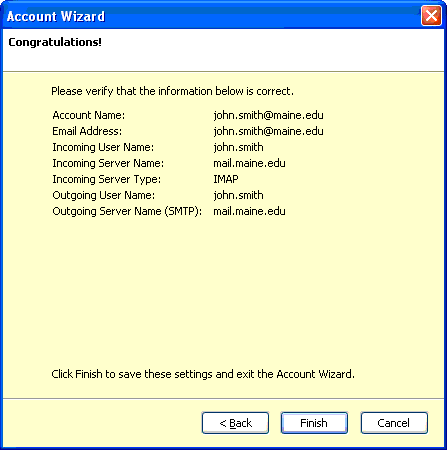 After clicking Finish you will see your mail client. If you are prompted to provide a password skip that step for now.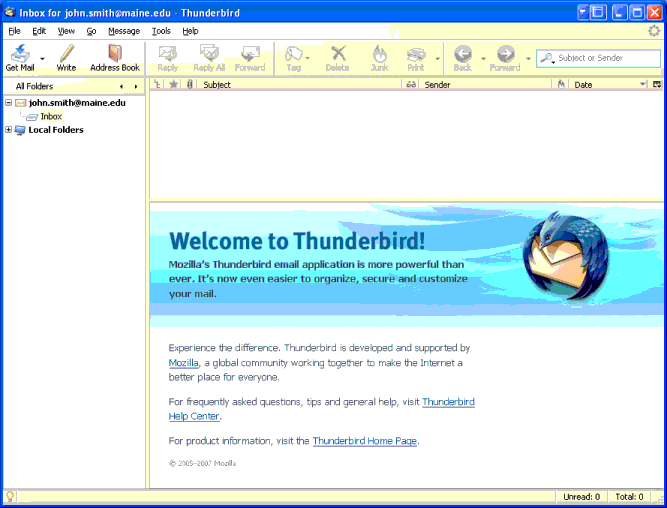 Because the Account Wizard does not ask you if you wish to enable SSL, we also need to enable that before you can use your mail account.
To access Account Settings, click on the
Tools
menu as shown below.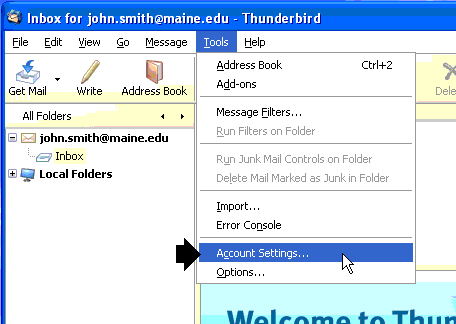 The Account Settings window will appear.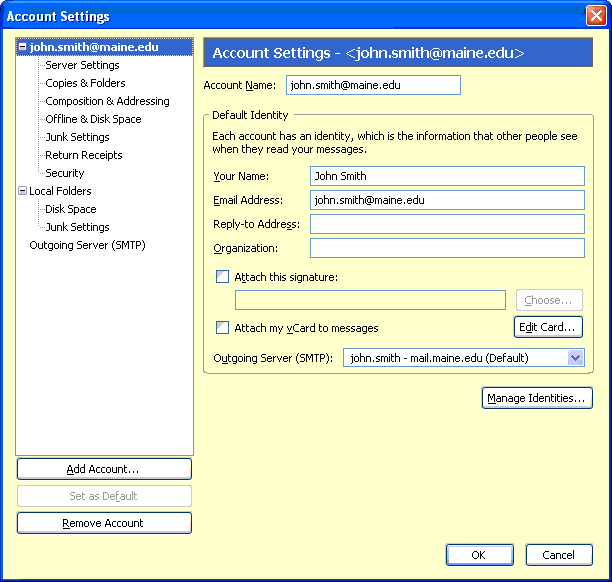 Select
Server Settings
from the left.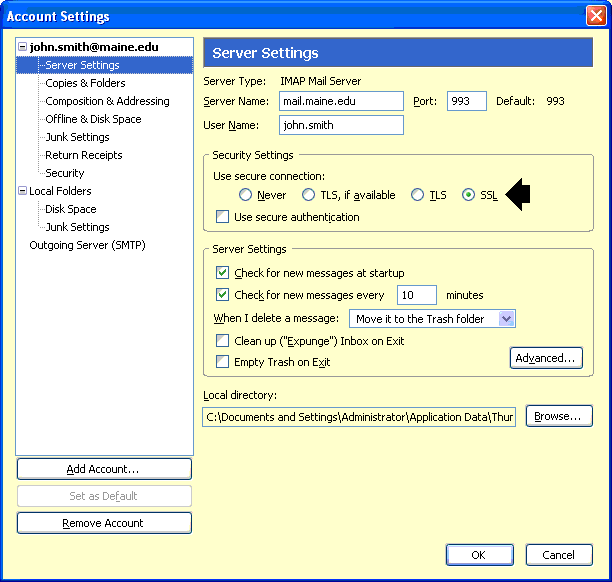 Here select
SSL
under Security Settings as shown.
Next, select
Outgoing Server (SMTP)
from the left.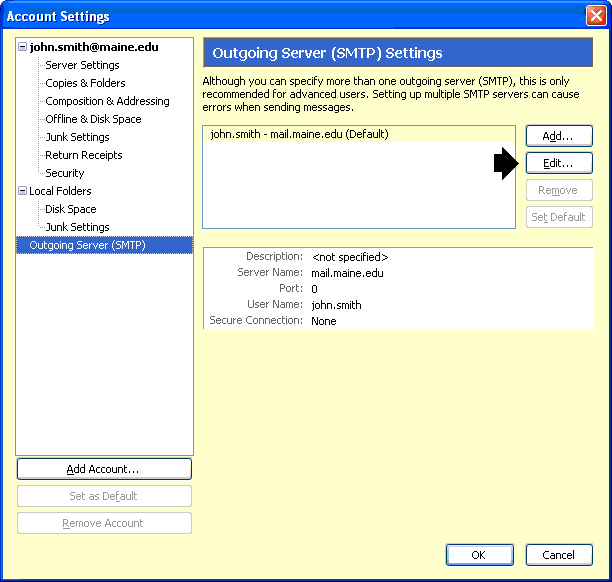 Here, highlight
mail.maine.edu
and click
Edit
.
The SMTP Server window will appear. Here, select
SSL
under Use secure connection, then click OK.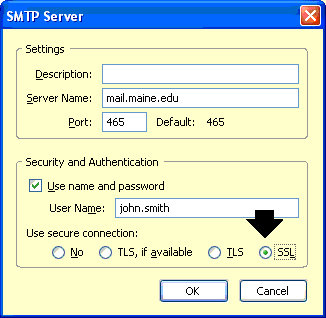 Click OK again, and you will return to your email client. Thunderbird is now ready to use.